GET IN
TOUCH
If you have any queries about the content of this website or would like to get in touch with the CFU team, please fill in the form below and we will get back to you.
Privacy notice: by submitting this form you consent to the Climate Funds Update Privacy Policy.
As #COP27 nears and climate catastrophes occur worldwide, it's worth asking: will #LossAndDamage finally be provided where it's needed? Join @liane_boell @KathrinAnna + more tomorrow at 7 am ET for a discussion on what's needed + what's likely at #COP27

🔗https://t.co/76d2mU00jj
Twitter feed video.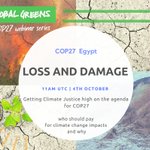 Load More...