The global climate finance architecture is complex and always evolving. Funds flow through multilateral channels – both within and outside the UNFCCC Financial Mechanism – as well as through bilateral and regional initiatives and channels. A growing number of recipient countries are also setting up national climate change funds that receive funding from multiple contributor countries in an effort to coordinate and align contributor interests with national priorities.
This figure provides an overview of the global architecture, focusing particularly on public climate financing mechanisms. The types of climate finance available vary from grants and concessional loans, to guarantees and private equity. The architecture has differing structures of governance, modalities and objectives. The proliferation of climate finance mechanisms increases the challenges of coordinating and accessing finance, as well as its monitoring. While the transparency of climate finance programmed through multilateral initiatives is increasing, detailed information on bilateral initiatives, regional and national funds are often less readily available.
The climate finance architecture
Click on the image for larger version.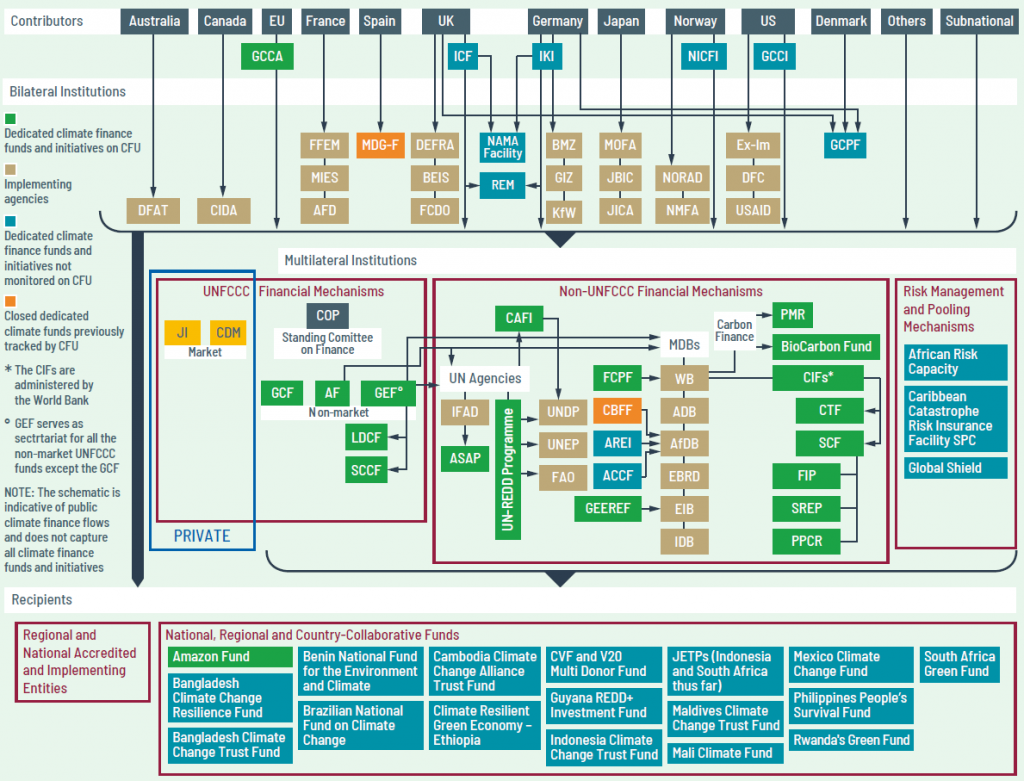 National, Regional, and Country-Collaborative Funds
Bangladesh Climate Change Resilience Fund
Benin National Fund for the Environment and Climate
Brazilian National Fund on Climate Change
Cambodia Climate Change Alliance Trust Fund
Climate Resilient Green Economy—Ethiopia
Just Energy Transition Partnerships (JETPs; South Africa, Indonesia, Vietnam)
Maldives Climate Change Trust Fund
Mexico Climate Change Fund
Bilateral Funds and Initiatives
GCCI – Global Climate Change Initiative (US)
REM – REDD+ Early Movers (Germany and UK)